About Us
Modern Wing Chi Chef is a Chinese takeaway in Bromley by Bow. Why don't you try our Mushroom Rice Noodles or Roast Pork Chow Mein?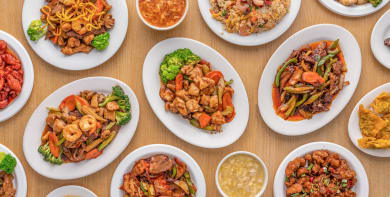 Reviews
544 reviews
timothy
"The food was delicious. Would recommend"
13/06/2021
Mr.
"Good food on time. But the king prawns were not enough in Chowmein. Only few."
11/06/2021
Vijune
"Very nice food and plus got fortune cookies so gonna try my happines :) honestly recomended for.everyone !"
08/06/2021
Elizabeth
"Amazing"
26/05/2021
Menu
Mixed Hors D'oeuvres For 1 Person
Seaweed, spare ribs, satay chicken on skewers, vegetable spring roll, sesame prawn on toast
£6.50
Mixed Hors D'oeuvres For 2 Persons
Seaweed, spare ribs, satay chicken on skewers, vegetable spring roll, sesame prawn on toast
£9.95
Vegetable Spring Roll (6)
Vegetable
£1.95
Dry Spare Ribs Small
Long or chopped
£6.50
Dry Spare Ribs Large
Long or chopped
£7.50
Peking Style Spare Ribs Small
Long or chopped
£6.50
Peking Style Spare Ribs Large
Long or chopped
£7.50
Barbecued Spare Ribs Small
Long or chopped
£6.50
Barbecued Spare Ribs Large
Long or chopped
£7.50
Spare Ribs with Honey Small
Long or chopped
£6.50
Spare Ribs with Honey Large
Long or chopped
£7.50
Salt & Pepper Spare Ribs Small
Hot
£6.50
Salt & Pepper Spare Ribs Large
Hot
£7.50
Deep Fried Crab Claws (4)
£3.95
Sesame Prawn on Toast 04 Pieces
£3.20
Sesame Prawn on Toast 06 Pieces
£4.60
Salt & Pepper King Prawns Small
Hot
£5.50
Salt & Pepper King Prawns Large
Hot
£6.25
Fried Butterfly Prawns in Breadcrumbs 05 Pieces
£3.85
Fried Butterfly Prawns in Breadcrumbs 10 Pieces
£6.25
Salt & Pepper Squid Small
Hot
£5.30
Salt & Pepper Squid Large
Hot
£5.85
Satay Chicken on Skewers (4)
£5.25
Salt & Pepper Chicken Wings Small
Hot
£4.35
Salt & Pepper Chicken Wings Large
Hot
£4.95
Salt & Pepper Shredded Chicken Small
Hot
£4.65
Salt & Pepper Shredded Chicken Large
Hot
£5.30
Pork Dumplings (6) Grilled
£4.95
Pork Dumplings (6) Steamed
£4.95
Chicken Dumplings (6) Grilled
£4.95
Chicken Dumplings (6) Steamed
£4.95
Prawn Dumplings (6) Grilled
£6.00
Prawn Dumplings (6) Steamed
£6.00
Crispy Aromatic Duck Quarter
£9.50
Crispy Aromatic Duck Half
£17.50
Chips with Curry Sauce Small
£2.65
Chips with Curry Sauce Large
£3.25
Peking Style Chicken Wings Small
£4.35
Peking Style Chicken Wings Large
£4.95
Honey Chicken Wings Small
£4.35
Honey Chicken Wings Large
£4.95
Satay Prawn on Skewers (5)
£6.15
Fish in Salt & Pepper Small
£5.50
Fish in Salt & Pepper Large
£6.15
Bean Curd in Salt & Pepper Small
£3.95
Bean Curd in Salt & Pepper Large
£4.60
Crab Meat & Sweetcorn Soup
£3.50
Chinese Special Curry
Hot
£6.15
Chinese Chicken Curry
Hot
£5.35
Chinese Roast Pork Curry
Hot
£5.20
Chinese Roast Duck Curry
Hot
£6.50
Chinese King Prawns Curry
Hot
£6.50
Sweet & Sour Chicken Hong Kong Style
£5.50
Sweet & Sour Chicken Balls 05 Pieces
£3.50
Sweet & Sour Chicken Balls 10 Pieces
£5.50
Sweet & Sour Chicken (Slice) Small
£5.05
Sweet & Sour Chicken (Slice) Large
£5.60
Crispy Fried Hot Shredded Chicken Small
Hot
£5.05
Crispy Fried Hot Shredded Chicken Large
Hot
£5.60
Kung Po Chilli Chicken
Hot
£5.25
Fried Chicken in Chilli Sauce Szechuan Style
Hot
£5.25
Fried Chicken with Green Pepper in Hot Black Bean
Sauce
Hot
£5.25
Fried Chicken with Ginger & Spring Onion
£5.25
Fried Chicken with Cashew Nuts & Vegetable
£5.60
Roast Chicken with Cantonese Style
£5.60
Fried Chicken in Oyster Sauce
£5.25
Fried Chicken in Satay Sauce
£5.25
Fried Chicken with Mushrooms
£5.25
Fried Chicken with Mixed Vegetables
£5.25
Fried Chicken with Broccoli
£5.25
Crispy Fried Hot Shredded Beef Small
Hot
£5.55
Crispy Fried Hot Shredded Beef Large
Hot
£6.15
Fried Beef with Green Pepper in Hot Black Bean
Sauce
Hot
£5.55
Fried Beef with Ginger & Spring Onion
£5.55
Fried Beef in Oyster Sauce
£5.55
Fried Beef in Chilli Sauce Szechuan Style
Hot
£5.55
Fried Beef with Mixed Vegetable
£5.55
Fried Beef with Black Pepper
Hot
£5.55
Fried Lamb with Green Pepper in Hot Black Bean
Sauce
£5.85
Fried Lamb Bean Sauce
Hot
£5.85
Fried Lamb with Chilli Sauce
Hot
£5.85
Fried Lamb with Ginger & Spring Onion
£5.85
Sweet & Sour Pork Hong Kong Style
£5.25
Fried Roast Pork in Chilli Sauce Szechuan Style
£5.25
Roast Pork Cantonese Style
£5.25
Fried Roast Pork with Green Pepper in Hot Black
Bean sauce
Hot
£5.25
Fried Roast Pork with Ginger & Spring Onion
£5.25
Sweet & Sour Pork Balls 05 Pieces
£3.45
Sweet & Sour Pork Balls 10 Pieces
£5.25
Fried Roast Pork with Broccoli
£5.25
Fried King Prawn with Broccoli
£6.15
Fried Squids with Green Pepper in Hot Black Bean
Sauce
Hot
£5.85
Fried Squids with Ginger & Spring Onion
£5.85
Fried Mixed Seafood with Green Pepper Hot Black
Bean sauce
Hot
£5.85
Fried Mixed Seafood with Ginger & Spring Onion
£5.85
Sweet & Sour King Prawns Hong Kong Style
£6.50
Sweet & Sour King Prawn Balls 05 Pieces
£4.50
Sweet & Sour King Prawn Balls 10 Pieces
£6.50
Kung Po Chilli King Prawns
£6.50
Fried King Prawns in Chilli Sauce Szechuan Style
£6.50
Fried King Prawns with Green Pepper in Hot Black
Bean sauce
£6.25
Fried King Prawns with Ginger Pepper & Spring
Onion
£6.25
Fried King Prawns in Oyster Sauce
£6.25
Fried King Prawns in Satay Sauce
£6.25
Fried King Prawns with Mushroom
£6.25
Fried King Prawns Mixed Vegetables
£6.25
Fried Roast Duck in Black Bean Sauce
£6.25
Fish in Green & Spring Onion
£6.25
Thai King Prawn Curry Green
£6.25
Thai King Prawn Curry Red
£6.25
Fried Roast Duck in Chilli Sauce
Szechuan style
Hot
£6.25
Fried Roast Duck with Ginger & Spring Onion
£6.25
Fried Roast Duck in Oyster Sauce
£6.25
Fried Roast Duck with Mushroom
£6.25
Fried Roast Duck with Mixed Vegetables
£6.25
Roast Duck Cantonese Style
£6.25
Fried Roast Duck with Green Pepper Black Bean
Sauce
£6.25
Fried Mushroom in Sauce Garlic
£3.95
Fried Mushroom in Sauce Oyster
£3.95
Fried Bean Sprouts in Sauce Garlic
£3.95
Fried Bean Sprouts in Sauce Oyster
£3.95
Fried Chinese Leaf in Sauce Garlic
£3.95
Fried Chinese Leaf in Sauce Oyster
£3.95
Fried Mixed Vegetables Chilli Sauce Szechuan Style
£3.95
Fried Vegetable in Sauce Garlic
£3.95
Fried Vegetable in Sauce Oyster
£3.95
Fried Broccoli in Sauce Garlic
£3.95
Fried Broccoli in Sauce Oyster
£3.95
Bean Curd with Mixed Vegetable
£5.05
Thai Bean Curd Curry Green
£5.05
King Prawns Omelette Small
£5.55
King Prawns Omelette Large
£6.15
Roast Pork Fried Rice Small
£4.70
Roast Pork Fried Rice Large
£5.30
King Prawns Fried Rice Small
£5.35
King Prawns Fried Rice Large
£5.95
Mixed Seafood Fried Rice Small
£5.35
Mixed Seafood Fried Rice Large
£5.95
Mushroom Fried Rice Small
Vegetable
£4.05
Mushroom Fried Rice Large
Vegetable
£4.75
Mixed Vegetable Fried Rice Small
Vegetable
£4.05
Mixed Vegetable Fried Rice Large
Vegetable
£4.75
Singapore Fried Rice Small
Hot
£4.95
Singapore Fried Rice Large
Hot
£5.60
Roast Pork Chow Mein Small
£5.50
Roast Pork Chow Mein Large
£6.25
Roast Pork Chow Mein Stewed
£6.40
King Prawn Chow Mein Small
£6.25
King Prawn Chow Mein Large
£6.95
King Prawn Chow Mein Stewed
£7.25
Mixed Seafood Chow Mein Small
£6.25
Mixed Seafood Chow Mein Large
£6.95
Mixed Seafood Chow Mein Stewed
£7.25
Mushroom Chow Mein Small
Vegetable
£4.95
Mushroom Chow Mein Large
Vegetable
£5.50
Mushroom Chow Mein Stewed
Vegetable
£5.90
Mixed Vegetable Chow Mein Small
Vegetable
£4.95
Mixed Vegetable Chow Mein Large
Vegetable
£5.50
Mixed Vegetable Chow Mein Stewed
Vegetable
£5.90
Plain Chow Mein Small
Vegetable
£4.75
Plain Chow Mein Large
Vegetable
£5.25
Plain Chow Mein Stewed
Vegetable
£5.80
Singapore Chow Mein Small
£5.95
Singapore Chow Mein Large
£6.75
Singapore Chow Mein Stewed
£6.75
King Prawn Pad Thai Small
£6.75
King Prawn Pad Thai Large
£7.30
Mixed Vegetable Pad Thai Small
Vegetable
£5.45
Mixed Vegetable Pad Thai Large
Vegetable
£5.95
House Special Rice Noodles
£7.75
Special Rice Noodles Small
£6.50
Special Rice Noodles Large
£6.95
Chicken Rice Noodles Small
£6.25
Chicken Rice Noodles Large
£6.75
Roast Pork Rice Noodles Small
£6.25
Roast Pork Rice Noodles Large
£6.75
King Prawns Rice Noodles Small
£6.50
King Prawns Rice Noodles Large
£6.95
Mixed Seafood Rice Noodles Small
£6.50
Mixed Seafood Rice Noodles Large
£6.95
Mushroom Rice Noodles Small
Vegetable
£4.95
Mushroom Rice Noodles Large
Vegetable
£5.75
Mixed Vegetable Rice Noodles Small
Vegetable
£4.95
Mixed Vegetable Rice Noodles Large
Vegetable
£5.75
Plain Rice Noodles Small
Vegetable
£4.95
Plain Rice Noodles Large
Vegetable
£5.75
Singapore Rice Noodles Small
Hot
£6.50
Singapore Rice Noodles Large
Hot
£6.95
Shrimp Rice Noodles Small
£6.25
Shrimp Rice Noodles Large
£6.75
Any Chicken Dishes Combo Meal
£6.95
Any Beef Dishes Combo Meal
£6.95
Any Roast Pork Dishes Combo Meal
£6.95
Set Meal A
• Sweet & sour chicken balls (4)
• Curry chicken with egg fried rice (Hot)
£7.85
Set Meal B
• Chicken & sweetcorn soup
• Sweet & sour chicken (Hong Kong style)
• Curry beef (Hot)
• Egg fried rice
£14.25
Set Meal C
• Crispy pancake rolls
• Sweet & sour chicken (Hong Kong style)
• Curry chicken (Hot)
• Beef in black bean sauce (Hot)
• Special fried rice
£21.25
Contact Us
Find Us
78 St Leonards Street, Bromley by Bow, E33LR
We deliver to
E1, E13, E14, E15, E16, E1W, E2, E20, E3, E9