About Us
Modern Wing Chi Chef is a Chinese takeaway in Bromley by Bow. Why don't you try our Mushroom Rice Noodles or Roast Pork Chow Mein?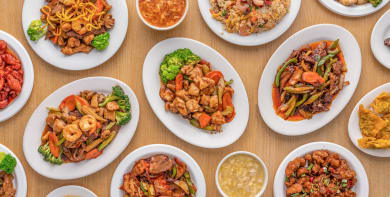 Reviews
322 reviews
Jason
"Tasted amazing and was delivered on time"
14/05/2020
Millie
"They are always lovely - provide free food over a certain amount and always deliver on time or early. Been going here since I was a kid before just eat was a thing and I love them!!"
09/05/2020
Joe
"The food was nice, however some of it was burnt. And I also did not recieve my free drink with my order despite it being £32.40. I tried to call them up about this and they didnt pick up."
06/05/2020
Ari
"Absolutely wonderful service and food .. there prawn balls in batter are my fave .. lovely friendly drivers too ... always arrive before stated time ⭐"
02/05/2020
Menu
King Prawns Omelette Small
£5.55
King Prawns Omelette Large
£6.15
King Prawn Pad Thai Small
£6.75
King Prawn Pad Thai Large
£7.30
Mixed Vegetable Pad Thai Small
Vegetable
£5.45
Mixed Vegetable Pad Thai Large
Vegetable
£5.95
Sweet & sour chicken balls (5)
Sweet & sour prawns balls (5pcs)
Sweet & Sour Pork Balls (5)
House Special Rice Noodles
£6.75
Special Rice Noodles Small
£5.25
Special Rice Noodles Large
£5.85
Chicken Rice Noodles Small
£5.25
Chicken Rice Noodles Large
£5.85
Roast Pork Rice Noodles Small
£5.25
Roast Pork Rice Noodles Large
£5.85
King Prawns Rice Noodles Small
£5.55
King Prawns Rice Noodles Large
£6.05
Mixed Seafood Rice Noodles Small
£5.55
Mixed Seafood Rice Noodles Large
£6.05
Mushroom Rice Noodles Small
Vegetable
£4.15
Mushroom Rice Noodles Large
Vegetable
£5.00
Mixed Vegetable Rice Noodles Small
Vegetable
£4.15
Mixed Vegetable Rice Noodles Large
Vegetable
£5.00
Plain Rice Noodles Small
Vegetable
£4.15
Plain Rice Noodles Large
Vegetable
£4.75
Singapore Rice Noodles Small
Hot
£5.30
Singapore Rice Noodles Large
Hot
£5.85
Shrimp Rice Noodles Small
£5.35
Shrimp Rice Noodles Large
£5.85
Crab Meat & Sweetcorn Soup
£3.50
Any Chicken Dishes Combo Meal
£5.95
Any Beef Dishes Combo Meal
£5.95
Any Roast Pork Dishes Combo Meal
£5.95
Set Meal A
• Sweet & sour chicken balls (4)
• Curry chicken with egg fried rice (Hot)
£7.85
Set Meal B
• Chicken & sweetcorn soup
• Sweet & sour chicken (Hong Kong style)
• Curry beef (Hot)
• Egg fried rice
£14.25
Set Meal C
• Crispy pancake rolls
• Sweet & sour chicken (Hong Kong style)
• Curry chicken (Hot)
• Beef in black bean sauce (Hot)
• Special fried rice
£21.25
Fried Mushroom in Sauce Oyster
£3.95
Fried Mushroom in Sauce Garlic
£3.95
Fried Bean Sprouts in Sauce Oyster
£3.95
Fried Bean Sprouts in Sauce Garlic
£3.95
Fried Chinese Leaf in Sauce Oyster
£3.95
Fried Chinese Leaf in Sauce Garlic
£3.95
Fried Mixed Vegetables Chilli Sauce Szechuan Style
£3.95
Fried Vegetable in Sauce Oyster
£3.95
Fried Vegetable in Sauce Garlic
£3.95
Fried Broccoli in Sauce Oyster
£3.95
Fried Broccoli in Sauce Garlic
£3.95
Bean Curd with Mixed Vegetable
£5.05
Thai Bean Curd Curry Green
£5.05
Fried Roast Duck in Chilli Sauce
Szechuan style
Hot
£6.25
Fried Roast Duck with Ginger & Spring Onion
£6.25
Fried Roast Duck in Oyster Sauce
£6.25
Fried Roast Duck with Mushroom
£6.25
Fried Roast Duck with Mixed Vegetables
£6.25
Roast Duck Cantonese Style
£6.25
Fried Roast Duck with Green Pepper Black Bean
Sauce
£6.25
Sweet & Sour Chicken Hong Kong Style
£5.50
Sweet & Sour Chicken Balls 05 Pieces
£3.50
Sweet & Sour Chicken Balls 10 Pieces
£5.50
Sweet & Sour Chicken (Slice) Small
£5.05
Sweet & Sour Chicken (Slice) Large
£5.60
Crispy Fried Hot Shredded Chicken Small
Hot
£5.05
Crispy Fried Hot Shredded Chicken Large
Hot
£5.60
Kung Po Chilli Chicken
Hot
£5.25
Fried Chicken in Chilli Sauce Szechuan Style
Hot
£5.25
Fried Chicken with Green Pepper in Hot Black Bean
Sauce
Hot
£5.25
Fried Chicken with Ginger & Spring Onion
£5.25
Fried Chicken with Cashew Nuts & Vegetable
£5.60
Roast Chicken with Cantonese Style
£5.60
Fried Chicken in Oyster Sauce
£5.25
Fried Chicken in Satay Sauce
£5.25
Fried Chicken with Mushrooms
£5.25
Fried Chicken with Mixed Vegetables
£5.25
Fried Chicken with Broccoli
£5.25
Crispy Fried Hot Shredded Beef Small
Hot
£5.55
Crispy Fried Hot Shredded Beef Large
Hot
£6.15
Fried Beef with Green Pepper in Hot Black Bean
Sauce
Hot
£5.55
Fried Beef with Ginger & Spring Onion
£5.55
Fried Beef in Oyster Sauce
£5.55
Fried Beef in Chilli Sauce Szechuan Style
Hot
£5.55
Fried Beef with Mixed Vegetable
£5.55
Fried Beef with Black Pepper
Hot
£5.55
Sweet & Sour Pork Hong Kong Style
£5.25
Fried Roast Pork in Chilli Sauce Szechuan Style
£5.25
Roast Pork Cantonese Style
£5.25
Fried Roast Pork with Green Pepper in Hot Black
Bean sauce
Hot
£5.25
Fried Roast Pork with Ginger & Spring Onion
£5.25
Sweet & Sour Pork Balls 05 Pieces
£3.45
Sweet & Sour Pork Balls 10 Pieces
£5.25
Fried Roast Pork with Broccoli
£5.25
Fried Lamb with Green Pepper in Hot Black Bean
Sauce
£5.85
Fried Lamb Bean Sauce
Hot
£5.85
Fried Lamb with Chilli Sauce
Hot
£5.85
Fried Lamb with Ginger & Spring Onion
£5.85
Roast Pork Chow Mein Stewed
£6.40
Roast Pork Chow Mein Small
£4.75
Roast Pork Chow Mein Large
£5.30
King Prawn Chow Mein Stewed
£7.25
King Prawn Chow Mein Small
£5.35
King Prawn Chow Mein Large
£5.95
Mixed Seafood Chow Mein Stewed
£7.25
Mixed Seafood Chow Mein Small
£5.35
Mixed Seafood Chow Mein Large
£5.95
Mushroom Chow Mein Stewed
Vegetable
£5.90
Mushroom Chow Mein Small
Vegetable
£4.05
Mushroom Chow Mein Large
Vegetable
£4.70
Mixed Vegetable Chow Mein Stewed
Vegetable
£5.90
Mixed Vegetable Chow Mein Small
Vegetable
£4.05
Mixed Vegetable Chow Mein Large
Vegetable
£4.70
Plain Chow Mein Stewed
Vegetable
£5.80
Plain Chow Mein Small
Vegetable
£3.95
Plain Chow Mein Large
Vegetable
£4.80
Singapore Chow Mein Stewed
£6.75
Singapore Chow Mein Small
£3.90
Singapore Chow Mein Large
£5.75
Natural Mineral Water 0.33L
£0.85
Natural Mineral Water 1.5L
£2.50
Roast Pork Fried Rice Small
£4.70
Roast Pork Fried Rice Large
£5.30
King Prawns Fried Rice Small
£5.35
King Prawns Fried Rice Large
£5.95
Mixed Seafood Fried Rice Small
£5.35
Mixed Seafood Fried Rice Large
£5.95
Mushroom Fried Rice Small
Vegetable
£4.05
Mushroom Fried Rice Large
Vegetable
£4.75
Mixed Vegetable Fried Rice Small
Vegetable
£4.05
Mixed Vegetable Fried Rice Large
Vegetable
£4.75
Singapore Fried Rice Small
Hot
£4.95
Singapore Fried Rice Large
Hot
£5.60
Fried King Prawn with Broccoli
£6.15
Fried Squids with Green Pepper in Hot Black Bean
Sauce
Hot
£5.85
Fried Squids with Ginger & Spring Onion
£5.85
Fried Mixed Seafood with Green Pepper Hot Black
Bean sauce
Hot
£5.85
Fried Mixed Seafood with Ginger & Spring Onion
£5.85
Sweet & Sour King Prawns Hong Kong Style
£6.50
Sweet & Sour King Prawn Balls 05 Pieces
£4.50
Sweet & Sour King Prawn Balls 10 Pieces
£6.50
Kung Po Chilli King Prawns
£6.50
Fried King Prawns in Chilli Sauce Szechuan Style
£6.50
Fried King Prawns with Green Pepper in Hot Black
Bean sauce
£6.25
Fried King Prawns with Ginger Pepper & Spring
Onion
£6.25
Fried King Prawns in Oyster Sauce
£6.25
Fried King Prawns in Satay Sauce
£6.25
Fried King Prawns with Mushroom
£6.25
Fried King Prawns Mixed Vegetables
£6.25
Fried Roast Duck in Black Bean Sauce
£6.25
Fish in Green & Spring Onion
£6.25
Thai King Prawn Curry Red
£6.25
Thai King Prawn Curry Green
£6.25
Fried Butterfly Prawns in Breadcrumbs 05 Pieces
£3.85
Fried Butterfly Prawns in Breadcrumbs 10 Pieces
£6.25
Deep Fried Crab Claws (4)
£3.95
Fish in Salt & Pepper Large
£6.15
Fish in Salt & Pepper Small
£5.50
Dry Spare Ribs Large
Long or chopped
£5.95
Dry Spare Ribs Small
Long or chopped
£5.45
Crispy Aromatic Duck Half
£17.50
Crispy Aromatic Duck Quarter
£9.50
Chips with Curry Sauce Large
£3.25
Chips with Curry Sauce Small
£2.65
Chicken Dumplings (6) Grilled
£4.95
Chicken Dumplings (6) Steamed
£4.95
Barbecued Spare Ribs Large
Long or chopped
£5.95
Barbecued Spare Ribs Small
Long or chopped
£5.45
Bean Curd in Salt & Pepper Large
£4.60
Bean Curd in Salt & Pepper Small
£3.95
Spare Ribs with Honey Large
Long or chopped
£5.95
Spare Ribs with Honey Small
Long or chopped
£5.45
Sesame Prawn on Toast 04 Pieces
£3.20
Sesame Prawn on Toast 06 Pieces
£4.60
Mixed Hors D'oeuvres For 1 Person
Seaweed, spare ribs, satay chicken on skewers, vegetable spring roll, sesame prawn on toast
£5.25
Mixed Hors D'oeuvres For 2 Persons
Seaweed, spare ribs, satay chicken on skewers, vegetable spring roll, sesame prawn on toast
£8.85
Honey Chicken Wings Large
£4.95
Honey Chicken Wings Small
£4.35
Peking Style Chicken Wings Large
£4.95
Peking Style Chicken Wings Small
£4.35
Peking Style Spare Ribs Large
Long or chopped
£5.95
Peking Style Spare Ribs Small
Long or chopped
£5.45
Pork Dumplings (6) Grilled
£4.95
Pork Dumplings (6) Steamed
£4.95
Prawn Dumplings (6) Grilled
£6.00
Prawn Dumplings (6) Steamed
£6.00
Salt & Pepper Chicken Wings Large
Hot
£4.95
Salt & Pepper Chicken Wings Small
Hot
£4.35
Salt & Pepper King Prawns Large
Hot
£6.25
Salt & Pepper King Prawns Small
Hot
£5.50
Salt & Pepper Shredded Chicken Large
Hot
£5.30
Salt & Pepper Shredded Chicken Small
Hot
£4.65
Salt & Pepper Spare Ribs Large
Hot
£5.95
Salt & Pepper Spare Ribs Small
Hot
£5.45
Salt & Pepper Squid Large
Hot
£5.85
Salt & Pepper Squid Small
Hot
£5.30
Satay Chicken on Skewers (4)
£5.25
Satay Prawn on Skewers (5)
£6.15
Vegetable Spring Roll (6)
Vegetable
£1.95
Chinese Chicken Curry
Hot
£5.35
Chinese King Prawns Curry
Hot
£6.50
Chinese Roast Duck Curry
Hot
£6.50
Chinese Roast Pork Curry
Hot
£5.20
Chinese Special Curry
Hot
£6.15
Contact Us
Find Us
78 St Leonards Street, Bromley by Bow, E33LR
We deliver to
E1, E13, E14, E15, E16, E2, E20, E3, E9